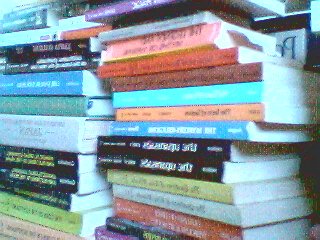 I thought it might be fun to compare shopping lists of biblioblogers.
Here are mine in no particular order:
1. Leander Keck,
Romans
2. N.T. Wright,
The Last Word
3. N.T. Wright,
Paul: Fresh Perspectives
4. Cosgrove, Weiss, and Yeo;
Cross-Cultural Paul
5. Mark Reasoner,
Romans in Full Circle
6. Kevin Vanhoozer,
The Drama of Doctrine
7. James Smith,
Who's Afraid of Postmodernism?
8. Jack Nelson-Pallmeyer,
Saving Christianity from Empire
9. Sandra Polaski,
Feminist Introduction to Paul
10. Camilo Jose Vergara,
How the Other Half Worships
I will limit it to ten for now, and I know that some of these will not make publication by SBL, but that will allow me to add to the list.
So what will you buy?